NHL Sports Rugs
Come back from the rink and relax in your den on the NHL sports rug from Milliken. Bursting with vibrant colors, these mats capture the spirit of the game and bring it to your living room! Constructed with injection dyed 100% Stainmaster Nylon with bound borders - soft, durable and light enough to move around.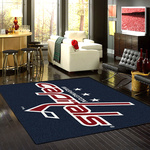 NHL Team Spirit Sports Rugs are iconic designs of your favorite team logo, bringing a small part of the experience of the game straight into your living room.

These rugs are versatile and light so you can use them any way you like to show support for your favorite team.

• Available in 4 sizes

• Perfect for living rooms and dens.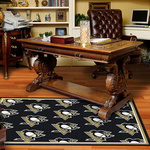 NHL Team Repeat Sports Rugs are designed with a repeating pattern of the team logo, bringing a small part of the experience of the game straight into your living room.

These rugs are versatile and light so you can use them any way you like to show support for your favorite team.

• Perfect for living rooms, dens and hallways.

• Available in 5 sizes, including runners