Products
>
Entrance Mats / Runners
Tire Link Door Mats
Available Colors
See Pricing
Tire Link Mats are made with recycled rubber that is connected with galvanized steel rods. These effective mats work well both outside and inside. They do not rot or fade, even in poor weather conditions.

• The rubber links are reinforced with 12-gauge galvanized steel rods.

• Link Mats have a cross-weave texture that increases safety as dirt, debris and moisture fall through the creases.

• Merely shake, vacuum or hose off to clean.

• Available in 5/8" thickness.
Item No: ETLKDM
Request Sample

Standard Sizes (Approximate)
Size
Qty. 1
Qty. 2-10
Qty. 11-25
Qty. 26+
13.5" x 23"
$18.20
$17.56
$16.48
$15.12
18.5" x 32"
$24.40
$23.88
$22.60
$21.24
24" x 36"
$29.80
$26.96
$25.52
$23.48
30" x 48"
$49.08
$46.64
$44.44
$42.20
36" x 60"
$84.40
$80.96
$76.92
$72.20
36" x 72"
$96.60
$92.20
$88.80
$84.44
Call for Custom Sizes & Shapes
$0.00
Custom Sizes - Per Sq. Ft. (Approximate)
Size
Qty. 1
Qty. 2-10
Qty. 11-25
Qty. 26+
3' Wide
$11.32
$11.16
$10.96
$10.72
4' Wide
$11.32
$11.16
$10.96
$10.72
5' Wide
$11.32
$11.16
$10.96
$10.72
6' Wide
$11.32
$11.16
$10.96
$10.72
7' Wide
$11.32
$11.16
$10.96
$10.72
8' Wide
$11.32
$11.16
$10.96
$10.72
Standard Colors (Click any image to Enlarge)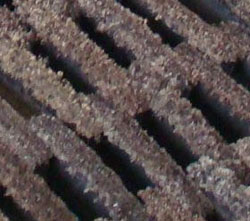 Royal Grey