Green Mats / Recycled Mats
Recycled floor mats can act as the first line of defense in every Green Building, helping to prevent contaminants from entering the premises and concurrently earning LEED credits, ultimately helping the environment and sustaining Earth's future. The U.S. Green Building Council has developed a rating system for new and existing buildings to encourage building owners to earn credit for meeting certain housekeeping criteria. There are four things an entrance mat should do: (1) Stop soil and water; (2) Store soil and water for removal at a convenient time; (3) Minimize tracking of stored soil and water into the building & (4) Provide a safe surface for traffic.
Environmentally Green Entrance Mats consist of entrance mats made from recycled materials and entrance mats derived from natural, self-sustaining organic materials. Both types of door mats still have the same commercial quality and durability.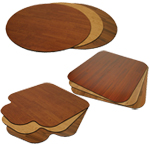 Environmentally Friendly Chair Mats are desk chair mats made with recycled materials. These elegant office chair mats help protect the floor underneath any desk while adding to the decor. These partially recycled chair mats are commercial-grade.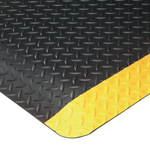 Environmentally Green Anti-Fatigue Mats are the same comfort mats we have supplied for the last 25 years. We were recycling excess material and producing Green mats way before it became popular. These anti-fatigue mats carry identical warranties.