Garage Flooring
Garage flooring adds the perfect finished look to any garage. From vinyl roll-out flooring to floor tiles, we carry the right garage floor covering for you. Our easy to install garage flooring will bring you years of great benefits. Protect your concrete garage floors by covering them with one of our great garage floor covering options. Clean off oil, water, dirt and debris easily when you use one of our many available options. We carry a full line of peel and stick garage tiles, interlocking garage tiles, roll-out garage flooring, and individual garage mats.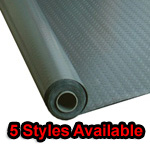 Our roll-out garage flooring is made from 100% solid polyvinyl to ensure long lasting durability. Incredibly easy to install, our garage flooring rolls out in a matter of minutes, with no adhesives necessary. Multiple rolls may be seamed together.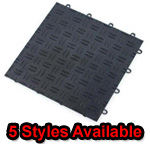 Interlocking Garage Tiles consist of attractive, heavy-duty floor tiles that interlock to cover virtually any space. These interlocking tiles are perfect for any garage, workshop or warehouse facility to help increase traction and appeal.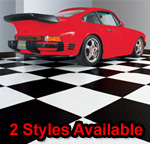 Peel & stick garage tiles will enhance any garage floor. Our high quality, 100% solid polyvinyl floor tiles are durable and built to provide many years of use. Simply press and stick adhesive backed tile into place, installation is quick and easy.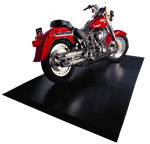 Our Motorcycle Mats are a perfect pad for any motorcycle. This extra large 5' x 10' mat will easily accommodate all motorcycles, including large road bikes. The mat can easily be trimmed if needed for any custom fit.